You care a lot, we know you do. And as folks who care deeply about other people and the planet, knowing that a company you work for, buy from or support meets high levels of social and environmental performance gives you peace of mind. The world does not need more empty promises, it needs more companies that are doing the good things they say they're doing, and who have the scorecard to prove it.
In many ways, that's what the B Corp movement is all about — envisioning a better economic system where businesses can benefit people, communities and the planet. But why does it matter so much that businesses rise to meet the challenges of our times? Isn't a business just all about making money? Should I care about what they do behind closed doors?
The people have spoken
In 2021, the Conscious Consumers Report found that 76 percent of Aussies agreed that 'it's time Corporate Australia stepped up and showed both moral and practical leadership in solving society's problems.' Basically, businesses need to do (a lot) better.
For many, the pandemic presented an opportunity to reflect on what kind of world we want to live in, with 62 percent of consumers saying that now they're more likely to buy products and services from a company that's 'actually doing some good.'
Add to this the fact that IBM also found in 2020 that 57 percent of consumers were willing to change their purchasing habits to help reduce the negative environmental impacts of their shopping decisions, and that 72 percent of Kiwis also believe that 'brands have a responsibility to make a positive change in the world.'
People everywhere are now demanding that companies step up to the challenges of our time, and they are realising the power they have to create positive change for greater equality, better wages, less environmental impact, and greater transparency.
Image by Melpomenem on Getty Images
What the B Corp badge symbolises
Certified B Corps are businesses of all shapes and sizes, across the world, who are not just talking about having a positive impact, but that are making sure their impact is tangible, measurable and transparent. They measure their impact across five 'Impact Areas' including: Workers, Customers, Governance, Environment, and Community.
There are currently over 5,100 businesses spanning 79 countries in the B Corp movement, with over 430 of those headquartered in Australia and Aotearoa New Zealand (and growing every day). That adds up to over 400,000 employees, across 154 industries, and millions of customers, clients, and stakeholders across the globe.
To certify as a B Corp, a business has to be awarded at least 80 points out of a possible 250+ under what we call the B Impact Assessment or 'BIA' – a free tool that thousands of businesses have already used worldwide to measure their social and environmental impact.
About the BIA and how to better measure your impact ↗
When you complete the BIA, the number of points a company gains through the process is represented by their 'B Impact Score.' And remember: you need at least 80 points to become a B Corp. So, what does the B Impact Score actually mean? What do the numbers represent? How are they calculated and how do they translate into good business practices?
Let's unpack some of your most pressing questions about the B Impact Score and why it matters if you are looking to tread a little lighter on the planet and show up for people and communities in meaningful ways.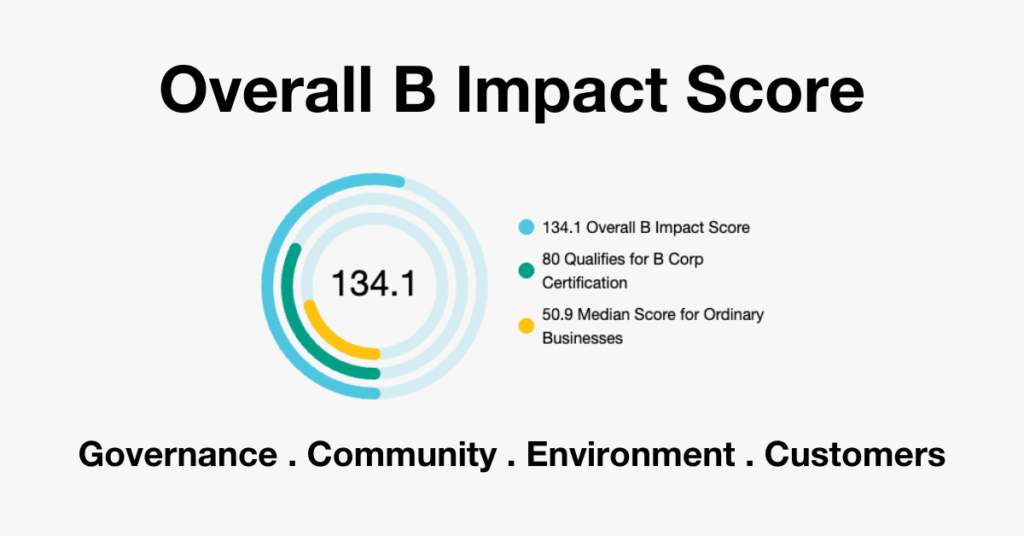 Basics of the B Impact Score
The first thing to know about the B Impact Score is that it represents a point system that helps B Lab (the non-profit network responsible for certifying B Corps) to assess, in a standardised way, how 'good' a business is.
Of course, a 'one size fits all' approach was never going to cut it when we're trying to shift one of the foundation pillars of our global economic system — capitalism — so, just like businesses, which vary in size and scale, the B Impact Score is customised to each organisation that undergoes a B Impact Assessment.
This unique scoring methodology was designed to allow for each business' distinctive positive characteristics to be recognised and celebrated.
Sector, size and geography are all taken into account, and they determine which questions a business receives during their assessment and therefore what their score represents. For example, a micro business in Mexico will not receive the same assessment questions as a multinational based in Melbourne.
Five impact areas of the B Impact Score
There are five impact areas that businesses are assessed on when it comes to their positive impact: Community, Customers, Environment, Governance, and Workers.
Each set of questions under those five impact areas is designed to assess how 'positively impactful' that part of a business is on its stakeholders (bearing in mind that B Corps are trying to create a system whereby stakeholders are prioritised over shareholders).
Read more: How we develop our standards with independent experts ↗
The points a company can receive are weighted according to which of the five impact areas a company puts the greatest emphasis on or has the most effect in.
For example, a business like TOMbag, who repurposes post-consumer plastic waste into useful products might have the most effect in the 'Environment' impact area. Therefore, they will receive a high allocation of points in that area, where their positive impact can be measured the most.
And just like the challenges we are trying to tackle, B Lab's standards and scoring processes are continually evolving to ensure that the movement continues to reflect the leadership and impact necessary to meet the moment and the future.
What have we learned so far?
---
To certify as a B Corp, a company needs to undergo the B Impact Assessment and receive a score of 80+ out of around 250.
The five impact areas assessed in each business are: community, customers, environment, governance, and workers (more details on each to come).
Difference across size, sector and location is accounted for, so organisations receive the right questions to meet their specific parameters.
Questions in the BIA are weighted based on how 'positively impactful' the practice is on all stakeholders of the business.
Standards and performance requirements are continuously improved with the input of independent experts and stakeholders.
What is considered a 'good' score?
This is one of the most common questions we get about the B Impact Score and the short answer is that: any score higher than zero means that a business has some level of positive impact and 'good business' commitments or practices in place.
Scoring points shows that an organisation is doing something positive to benefit society and the environment. For example, if a business donates a percentage of profits to a charity or social cause, they will have points added to their B Impact Score. If they have an employee wellbeing strategy, they will have points added to their B Impact Score.
While it might not seem like a lot to achieve a score of 80, you might be surprised to know that businesses usually achieve an average score of around 50-55 points on the BIA and getting to that 80 point threshold is far from a (gluten-free, vegan) cake walk.
If a business doesn't reach the 80 point threshold to certify as a B Corp, they can always try again after they've made some meaningful improvements and B Lab has developed plenty of resources built into the BIA to help them do that.
In fact, the commitment to continuous improvement is a hallmark of the B Corp movement; never settling for 'good enough' when you know you can be better and do better.
While it's not perfect, the BIA is designed to help businesses assess their current impact, compare and review their performance against 'best practice', and improve their operations through customised improvement reports and guides. It essentially provides a roadmap for positive impact.
Image by Pexels–2286921 from Pixabay
Can you lose points or get a negative score?
One cool thing about the B Impact Score is that you can't get negative points because points are never deducted, they are only added for each positive impact a company has.
Instead, the BIA encourages companies to seek out impact where they can have the most effect, and then gives businesses the chance to answer questions based on the specifics of their industry, their region and how they operate.
Did you know?
There are now over 30 qualified 'B Consultants' in Australia and Aotearoa New Zealand available to help organisations through the certification process? Each bringing a wealth of knowledge, they run regular 'Become a B Corp' workshops in-person and online to guide businesses along the better business path.
Can businesses lie about or misrepresent what they do just to score well?
Honesty and transparency are another two of the bedrocks of the B Corp movement, and not being truthful in your answers helps no one.
Not only are businesses required to disclose issues including lawsuits and data breaches, but certain issues can disqualify them from certification altogether.

— Read our position statements
Then, if a business does want to go through the lengthy and robust certification process, they have to be prepared to have several members of our Global Certification Team pour over the ins and outs of their business with a fine tooth comb. It is very common for a company's score to drop at least 5-10 points during that time and we always suggest working on an improvement plan during the verification process just in case.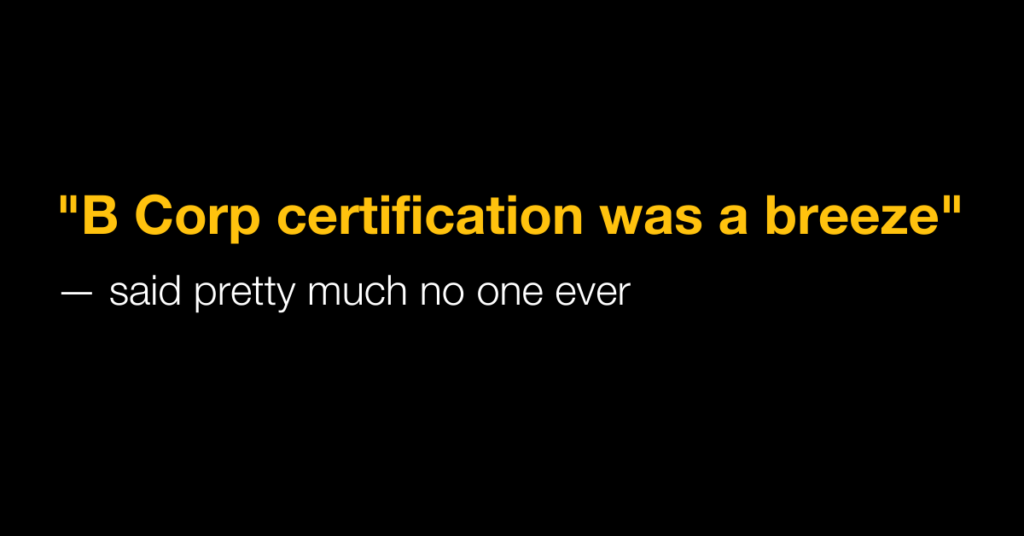 Read the full list of requirements to achieving certification ↗
Mirror mirror on the wall, who are the best businesses for them all?
Each year, B Lab publishes its 'Best for the World' lists, which highlights the B Corps who have made extraordinary impact in each of the five impact areas of the BIA. Recognising the top five percent of B Corps globally, these lists are designed to create a little healthy competition for businesses not to be the best in the world, but the best for the world.
Search by 'Best for the World' nominees in the B Corp Directory to see who's leading the way ↗
In 2021, there were 767 (out of the then 4,065) B Corps recognised as being 'Best for the World'; 46 of them were from Australia and Aotearoa New Zealand. Not only that, but while the median score for businesses who complete the BIA globally is between 50-55, B Corps in our region have an average score of 96.
This is an impressive feat and demonstrates the tenacity and commitment of Kiwi and Aussie businesses to do better and be better.
The shift towards using business as a force for good continues to gather momentum in this part of the world and we love seeing more and more businesses become certified each week.

— Keep an eye out on our blog for new B Corp announcements
Before we jump into a few of the more technical questions we get asked about the B Impact Score, let's do a quick recap.
What have we learned so far?
---
Points are never deducted in the BIA, they are only added for each positive impact a business is having.
The median score for all businesses who complete the BIA globally is 55.
In Australia and Aotearoa New Zealand, the average score for all Certified B Corporations is 96.
Each year, B Lab publishes its 'Best for the World' lists, recognising the top five percent of B Corps globally in each of the five impact areas.
Let's get technical, technical
We now know that the B Impact Assessment, and therefore a business' B Impact Score, focuses on five impact areas: governance, workers, community, environment, and customers, and that each question assesses how a business operates in relation to each impact area.
Every point that a company picks up in these five areas are known as 'Operational Points,' and they make up around 90 percent of a business' score. The remaining roughly 10 percent is made up of something called 'Impact Business Model' points, which we'll get to shortly.
Points depend on which sector and location a business operates in, as well as how many employees it has, to which questions they receive and how each impact area is weighted. However, there is a maximum number of points an organisation can accrue for each impact area. Let's break it down with a few examples!
Impact Area: Governance
The 'Governance' impact area looks at a company's overall mission, ethics, structure, transparency, and engagement around its social and environmental impact — all very important (albeit less sexy) parts of running a better business.
There are usually 10-15 points available in the Governance impact area, depending on their size and sector. Businesses in the top 5 percent average a score of 20.7 (higher than typically available because they also pick up Impact Business Model points).
One B Corp that is kicking goals in the Governance impact area is Future Super. As Australia's first fossil fuel free superannuation fund, they're on a mission to create a prosperous future free from climate change and inequality. Certified as a B Corp since 2016, Future Super's Governance score is 19.1. Pretty amazing, right! So, how did they achieve that?
As a super fund committed to building their members' wealth while contributing to a world everyone wants to live in, Future Super codifies transparency (makes it very official) by:
Establishing a Board of Directors;
Carrying out regular independent impact reporting; and
Providing a detailed investment strategy that is available to anyone on their website.
Among other things, each of these practices contributes to their very high B Impact Score.
Image: Future Super
Impact Area: Workers
The 'Workers' impact area evaluates how a company contributes to their employees financial security, health, wellbeing, safety, career development, and engagement satisfaction. Any good business knows that its employees are crucial to their success, so the BIA urges companies to ensure they are treating their employees with thoughtfulness and respect.
There are typically 40-50 points available for businesses in the Workers impact area and B Corps in the top 5 percent globally average a score of 45.3.
Senversa, an environmental consulting firm based in Victoria, achieved a whopping 58.5 points in the Workers impact area in the recent 'Best for the World' lists. As a company restoring ecosystems for the future, Senversa understands better than most the importance of providing a nurturing, fulfilling work environment to retain high quality professionals from day one.
Their vision, 'to be the most satisfying workplace for quality environmental, geosciences and waste management professionals,' says it all. One of the reasons they score so well in this area is because they have an inclusive ownership structure with approximately 45 percent of staff owning shares in the company, and they focus on engaging staff, upholding cultural values, and enabling flexibility and responsiveness towards employee needs.
Impact Area: Community
The 'Community' impact area looks at a business' impact on the communities in which it operates, sources from, and hires from — essentially: its stakeholders. Points are allocated according to 'JEDI principles' of justice, equity, diversity, and inclusion, as well as charitable giving, supply chain management and more.
There are around 40-50 points available for businesses in the Community impact area and businesses in the top 5 percent average a score of 58.7 (due to extra points for an Impact Business model).
Strategic marketing firm and B Corp, Harvey, finds the best ways to achieve impact using data, tech and creativity. Their Community impact score is an almost-off-the-charts 81.7 — that's right, 81.7! Let's take a look at how they managed this one…
Harvey has some of the best brilliant diversity, equity and inclusion practices in the entire B Corp movement, from broad gender representation in management and supplier diversity programs, to purchasing from local and Certified B Corp suppliers. Their supplier lists are even open source to support others to follow their lead.
A great example of why they score so well in this area is a recent stand against certain public holidays that don't align with their values ('Australia Day' and Melbourne Cup Day). Instead, Harvey staff work those days and donate wages to organisations that help the relevant causes (i.e. First Nations organisations and animal welfare charities).
Photo: Harvey's founders Becky and Simon
Impact Area: Environment
The 'Environment' impact area focuses on a company's overall environmental management practices and their impact on the air, climate, water, land and biodiversity that we all share. This impact area not only looks at a company's direct impact on the environment, but the impact of its supply chain and distributors too.
There are typically 20-45 points available for businesses in the Environment impact area with businesses in the top 5 percent averaging a score of 49.6.
RePlated is a B Corp that has made it their business to reduce waste by designing and creating reusable food containers from recycled plastic. Their most recent Environmental impact area score was an impressive 56.9! How did they do it?
First of all, for every RePlated container made, eight soft drink bottles are saved from landfill. By diverting plastic from landfill and utilising it to create their product, they are reducing waste in two ways: by saving plastic from landfill and reducing the number of disposable containers and cutlery thrown away, they are providing an accessible alternative to consumers.
RePlated's commitment to reducing waste in every facet of their organisation has been recognised in their B Impact Score.
Photo: RePlated
Impact Area: Customers
The 'Customers' impact area evaluates how well a company looks after its loyal customers through the quality of its products and services, ethical marketing, data privacy and security, and opportunities for customer feedback.
There are typically about 5 operational points available for businesses in the Customers impact area, with plenty of opportunities for companies to unlock more points if they have an Impact Business Model.
Pathfinder is an Aotearoa New Zealand-based asset fund manager whose ethical investment approach achieved a Customer impact score of a gigantic 45.5. A finance company who has managed to 'unlock' a bank of additional points for an Impact Business Model and their willingness to obtain customer feedback, Pathfinder consistently monitors privacy of their customer data, and has incredibly effective and robust reporting procedures.
What have we learned so far?
---
'Governance' evaluates a company's mission, structure, ethics, transparency, and social and environmental impact engagement with typically 10-15 points up for grabs.
'Workers' focuses on how a business contributes to its employees wellbeing, health, financial security, career development and worker satisfaction, with 40-50 points usually available.
'Community' looks at a business' impact in the communities it operates in, sources from, and hires from, again with 40-50 points typically on offer.
'Environment' assesses a company's environmental management practices and how they affect the climate, biodiversity, water, air and land, throughout their operations, with generally 20-45 points available.
'Customers' only has around 5 points available but it measures how well a business takes care of its customers through its products and services, marketing techniques and maintenance of privacy. There is plenty of opportunity to unlock further points here for 'Impact Business Models' (covered below).
The 'rest' of the score – Impact Business Models and doing good on purpose
We promised you that we'd break down what the remaining part of the B Impact Score was apart from the 'operational points,' and that's the roughly 10 percent dedicated to 'models'.
Less runway and more 'walk the talk', a business model can be the difference between an organisation creating positive impact intentionally or incidentally.
The B Corp movement is all about doing better business on purpose. Therefore, an organisation whose core mission and operations are deliberately designed to have a specific positive impact on one or more of its stakeholders gets points for having an Impact Business Model or 'IBM'.
We know what you're thinking, isn't IBM that multinational who invented ATMs, the floppy disk, and the magnetic stripe card? And you'd be right. But in the B Corp universe, 'IBM' is also shorthand for Impact Business Model, or our way of assessing (and rewarding) companies who are 'doing better business on purpose'.
It's worth noting that IBMs are rare and will not apply to every company taking the B Impact Assessment. But if you really want to geek out on IBMs, you can search for B Corps with one through our free Directory. They can be identified in a company's listing by the scores in the light blue box.
Where to find more information about Impact Business Models
There are a whole host of different IBMs for businesses to choose from — over 20 in fact. One example are 'Designed to Give' models like Who Gives A Crap, who donates 50 per cent of profits to fund sanitation projects. Another example is the 'Serving In Need Populations' model where a company targets traditionally in need and underserved populations, like i=Change, an innovative cause-marketing eco-system for online retailers that focuses on creating impact for women and girls.
Classified according to specific, material, verifiable, lasting, and extraordinary 'models', doing the work to figure out whether your business qualifies for an Impact Business Model is one of the more challenging and nuanced parts of completing the B Impact Assessment. You can always visit the B Lab Knowledge Base for any burning questions about the different IBMs, and we recommend you reach out to the B Lab team if you're unsure.
Certified better business from A to B
Every business in the B Corp movement strives to practice what they preach. As leaders dedicated to reorienting the priorities of business and capitalism, B Corps work hard every day for the betterment of all people, communities and the planet — the B Impact Score contextualises and standardises that impact.
So now, when you see your favourite brand achieving B Corp certification, you might have a better idea about all the ways they're doing good just by taking a look at their B Impact Score!
READ NEXT: Five things to check before submitting your B Impact Assessment